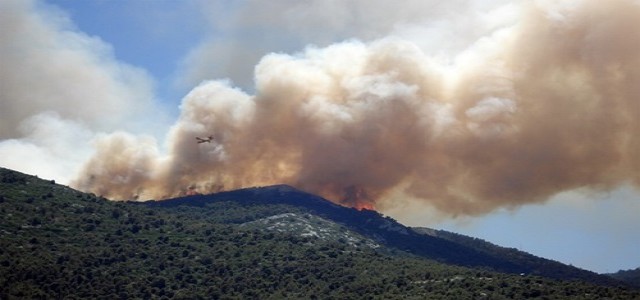 A fast-spreading wildfire near the Lake Tahoe region of California, has reportedly crossed a highway, forcing further evacuations and the cancellation of a major bike race event.
According to the Humboldt-Toiyabe National Forest, the Tamarack Fire, which is located just south of Lake Tahoe, was 0% under control as of Sunday afternoon. The National Forest Service Officials stated that approximately 517 rescue personnel were trying to put out the fire.
The fire has now spread to 18,000 acres. It is the latest wildfire to ravage the West in what is being increasingly regarded as a year-long problem connected to climate change.
The wildfire has been slowly growing after it was started by lightning on July 4, prompting officials to block a section of the Pacific Crest Trail, which is located between California State Routes 88 and 4.
The officials of the National Forest Service also noted that the thunderstorms, that were anticipated for Sunday afternoon, might possibly generate erratic winds near the blaze.
On Saturday, Officials stated, owing to strong winds, low relative humidity, and very dry fuels, the Tamarack Fire exhibited quick rates of spreading and a rise in fire behavior throughout the day.
After leaping a highway, the fire has made its way to Alpine County Airport. The fire has already destroyed three structures, officials added.
Mandatory evacuations have been added to Upper and Lower Manzanita, Sierra Pines, Alpine Village, Crystal Springs, Hung-a-lel-ti, and Diamond Valley Road, according to officials from the Humboldt-Toiyabe National Forest.
As per reports, a notification on the website of the 103-mile Death Ride announced that the intensive bike event was being canceled. Organizers have been instructing riders to vacate the area. The event was also canceled last year due to COVID-19, this year would have been its 40th anniversary.
Extremely dry weather conditions and intense heat waves linked to climate change have become commonplace across the western United States, making wildfires much more harder to fight. The phenomenon has turned the West much more drier and warmer over the last three decades and will continue to make weather events more severe and wildfires more destructive and frequent.
Source credit: https://thehill.com/policy/energy-environment/563611-more-evacuations-ordered-after-california-wildfire-jumps-highway?rl=1