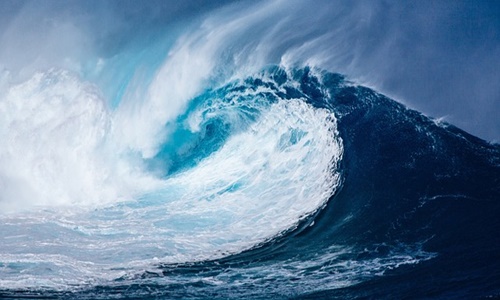 Nicole, the tropical storm has reportedly strengthened into a hurricane this week when it crashed into the Bahamas, battering the country of the West Indies archipelago with ferocious gusts and surf as it churned ever closer to Florida's Atlantic coast.
As reported by the Miami-based National Hurricane Center, Nicole, which had just upgraded to a hurricane, was carrying sustained winds of up to 75 miles per hour as it touched down on Grand Bahama Island.
Captain Stephen Russell, head of the National Emergency Management Agency claimed that the storm caused 'severe flooding' across a large portion of the Bahamas, including the islands of Grand Bahama, Andros, Eleuthera, and the Abacos, even before it reached hurricane strength.
A hurricane warning was still in effect for Grand Bahama, Bimini, and the Berry Islands in the northwest of the island country. Some residents evacuated their houses as the storm approached earlier in the day amid violent flooding and winds.
According to the Bahamas Department of Meteorology, a storm surge of approximately 4 foot (1.2 meters) was recorded in the north of Treasure Cay, Abaco. Officials said that at least one road in Nassau, the country's capital, was flooded by the surf.
In a frightening precursor to the dangerous storm anticipated earlier this week, Florida's east coast was battered by tropical storm-force winds and precipitation from a distance. The state is still recovering from the devastation caused by its last hurricane six weeks ago. Additionally, the storm's center was predicted to pass far to the north of Miami, the largest city in Florida.
However, Ron DeSantis, the Governor, issued an emergency situation for 45 counties, and a hurricane alert is still in effect for a 240-mile stretch of Florida's Shoreline from Boca Raton to about Flagler Beach.
In addition to this, Nicole's center was anticipated to continue moving across the northwest Bahamas earlier this week. Experts said it would likely make landfall as a hurricane.
Source credit: https://www.indiatoday.in/world/story/hurricane-nicole-triggers-flooding-in-bahamas-on-way-to-florida-atlantic-coast-2295525-2022-11-10