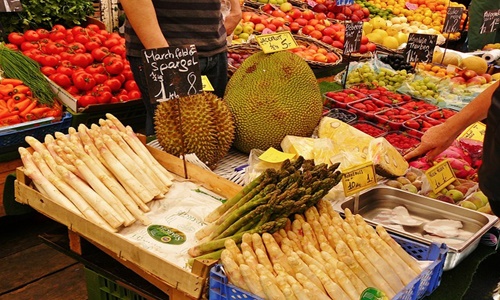 On Monday, Korean industry officials reported that after the Chuseok holiday, food prices are expected to rise as businesses move to reflect the skyrocketing costs of imported raw materials.
Typhoon Hinnamnor and other adverse weather phenomena over the past weeks, along with the won's ongoing depreciation against the USD have raised the price of a variety of agricultural items, ultimately increasing the financial burden on households.
The Korea Rural Economic Institute (KREI) claims that compared to last, the local supply of vegetables such as cucumber, bell peppers, and green chili peppers, has fallen this month.
The KREI anticipates that the wholesale price of green peppers from Cheongyang, South Chungcheong Province, will rise 89% this September, from 25,400 won ($18.37) per 10 kilograms last September to 48,000 won ($34.95) this month. Cucumber and red bell pepper prices are anticipated to increase by 10.2% per 10 kilograms and 46.5% per 5 kilograms during the same time.
The institute also noted that since the occurrence of typhoon Hinnamnor (which rocked the nation on September 6) had not been factored in, agricultural prices could further increase.
Local producers of instant noodles like Nongshim and Paldo have already disclosed the increased price for their key products.
From Thursday, Nongshim will raise the cost of 26 instant noodle items by an average of 11.3%. Paldo also announced that due to rising production costs, it will increase the average price of 12 instant noodles by 9.8% from October 1.
Nongshim added that due to the rising cost of two main ingredients of instant noodles, wheat and palm oil, it had no choice but to increase the price of its goods.
For the same reasons, confectionery brands such as Orion are also considering price hikes for their snacks.
A Korean confectionery firm stated that local businesses have to raise their product pricing as a result of increased labor, logistical, and packaging costs. If inflation is not controlled, this pattern is likely to persist after Chuseok.
Source credit: https://www.koreatimes.co.kr/www/tech/2022/09/419_335908.html